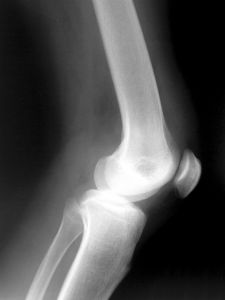 The FDA has recently issued an urgent recall on DePuy Orthopaedics' LPS Diaphyseal Sleeve product. The Class I recall used in this case is the most serious recall status; it denotes that there is a realistic risk of serious adverse health effects or even death. DePuy is still in the midst of defending itself against thousands of lawsuits on their metal-on-metal hip replacement devices.
The FDA defines the LPS Diaphyseal Sleeve as an end-stage revision knee product that allows surgeons to reconstruct severe soft tissue and bony defects. According to DePuy, the LPS system is intended to replace "the mid-shaft portion of the femur, proximal, distal and/or total femur, and proximal tibia." The diaphyseal sleeve component is utilized when patients experience bone loss or defects related to the removal of bone tumors, trauma, infection or difficult reconstruction.
This product carries the risk of failure when the device cannot support sufficient weight. Even normal daily functions can cause the sleeve to fail. The San Francisco Chronicle notes that, in case of failure, the sleeve can potentially fracture. This may lead to loss of function or loss of limb, infection, compromised soft tissue or death. Some more common complications that can occur when implanted with this device include component shifting, loosening, bending, cracking, fracture, deformation or wear of components, fatigue fractions, tissue reaction to wear debris, pain, dislocation, and decreased range of motion.
The FDA has received 10 reports of the device malfunctioning. Of these, 6 patients reported fracturing and 4 complain of painful loosening of the product. The Legal Examiner reports that the affected devices were manufactured from 2008 to July 20, 2012. If you believe you may have been implanted with one of these defective medical devices, don't hesitate to contact your doctor and find out the risks to your health it may have caused.
—–

At Borchardt Law Firm, we wish for no family to ever experience incapacitating tragedies due to defective medical devices. Our firm has the experience and the drive necessary to continue to strive for the improved protection of future generations of Texans. If you or a loved one has ever suffered from a related misfortune and feel you were not properly warned about the potential risks, don't hesitate to contact a lawyer to discuss any legal compensation you might be entitled to. Borchardt Law Firm represent clients over many areas in Texas; feel free to give us a call.
Toll Free: 866.832.9300
Phone: 817.332.9300
Fax: 817.332.9301
1300 South University Drive, Suite 500
Fort Worth, Texas 76107
firm@attorneysmb.com
For easy access to blog updates, follow us on Twitter: @AttorneysMB