In June of 2011 the Food and Drug Administration (FDA) issued a safety warning to all patients taking Propecia (finasteride). Propecia, a 5-alpha reductace inhibitor, "is used for the treatment of male pattern hair loss on the vertex and the anterior mid-scalp area" (PROPECIA). While taking Propecia, the drug begins to increase the number of scalp hairs with the intention to fill in most balding spots, however, studies may show the side effects to be far more dangerous than intended.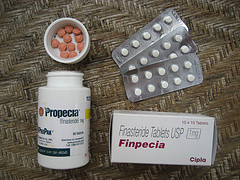 According to the Washington Post, the FDA based their safety warning off of two large studies. The studies showed that Propecia actually reduced the overall risk of getting prostate cancer, but increased the risk of developing high-grade tumors. Some doctors have reported that the drug is helping them find these serious tumors, while others are reporting that the drug is the reason for the tumors. Another serious side effect while taking Propecia is that it can affect the results of a Prostate-Specific Antigen (PSA) test, a blood test used to screen for prostate cancer. Propecia can actually lower your PSA levels and while several men think that a hair treatment drug is not anything serious, studies have shown otherwise. As the debate continues doctors seek for more results to determine the severity of Propecia's side effects. (read full story)

If you have taken Propecia before and feel that your side effects are much more severe or have had any indication of a tumor don't hesitate to contact a lawyer to discuss your legal options. Defective prescription drug cases are serious; at Borchardt Law Firm we have seen and dealt with many cases. We want the best for our clients or their loved ones. We feel the work we do will protect future generations of Texans. Feel free to give us a call.
Toll Free: 866.832.9300
Phone: 817.332.9300
Fax: 817.332.9301
1300 South University Drive, Suite 500
Fort Worth, Texas 76107
firm@attorneysmb.com
Sources:
http://www.propecia.com/sitedown.html
http://www.washingtonpost.com/blogs/the-checkup/post/fda-issues-warning-on-prostate-drugs/2011/06/09/AG0IHfNH_blog.html
—–
EXCERPT:
—–
KEYWORDS:
—–